InElsWhEre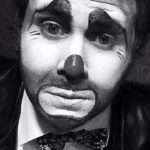 A new Scottish Gothic Musical Comedy
Commissioned for Tamfest 2016
World Premiere of 'InElsWhEre' by Martyn Dempsey
'InElsWhEre'
Set in the Gothic alternative world of 'InElsWhEre,' a dark and macabre alternative version of Scotland. Led into the tales by our charismatic MC we meet Ellie the Unloved, Jatzic The Undertaker, Cheerful the Clown, Claudette the Vet, and hear the tales of the sad and deranged lives they lead 'InElsWhEre.' Told through music, clowning and storytelling, we enter a world of one legged, three winged pigeons, old gardens gone astray and where it's often advised not to piss on a railway. It is a dark and danky world but is all quite as it really seems?
Featured Andrew Keay (NT's Warhorse) , Angela Cassidy, Kirsty Eila McIntyre and Martyn Dempsey. Directed by Paul Charlton (The Ginge, The Geordie and The Geek, Jo Brand's 'Damned').
Supported by The Tom McGrath Trust, The Gaiety Theatre, Imaginate and Toonspeak Young People's Theatre.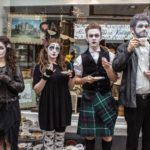 For Rehearsal Demos of the shows music please see the following link
'InElsWhEre' began it's life as a Scratch Performance for Imaginate in 2016 featuring cast of Andrew Keay, Jennifer Hainey, Hannah Howie and Martyn Dempsey. Photo's below by Jassy Earl Photography.